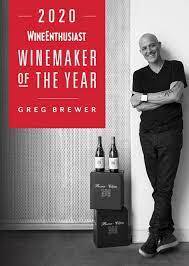 Greg Brewer Winemaker Event
Meet Greg Brewer: 2020 Wine Enthusiast Winemaker of the Year!
Taste wines from: Brewer-Clifton, Diatom & Ex Post Facto
Greg is one of our favorite vintners and both his winemaking philosophy and style are inimitable! Come taste and learn from a true master of his craft!
When: Thursday May 11th  5:30 Reception, 6:00pm start

Where: Winehouse Cellar
We will start the event with a short 30-45 minute sit down comparative tasting led by Greg and then open things up for a happy hour meet & greet with additional wines to taste.
Comparative Tasting Wines:
Brewer-Clifton 3D Chardonnay 2018 vs 2020
Ex post facto Syrah 2020 vs 2021
Brewer Clifton Machado Pinot Noir 2014 vs 2020
Happy Hour line-up:
Sonja + Greg's Cider Factory Picpoul Beauty Apple Grape Wine
2022 Diatom Chardonnay $24.99
2021 Brewer Clifton Chardonnay $36.99
2020 Brewer Clifton 3D Chardonnay $69.99
2021 Brewer Clifton Pinot Noir $42.99
2020 Brewer Clifton Pinot Noir 'Machado' $79.99